13 Frequently Asked Questions About Varicoceles
Easily Learn the Answers to the Most Popular Questions About Varicocele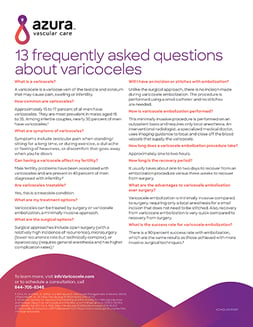 Most males with varicoceles may have no symptoms at all. So, it's not uncommon for a man to be unaware that he has one unless it is noticed during a routine physical exam or it causes problems with fertility. When varicocele symptoms do occur, the dilated veins in the scrotum can often be felt or seen, and the testicle is smaller on the varicocele side (most commonly on the left).
Approximately 10-15% of all men have been diagnosed with a varicocele and 40% of infertile men suffer from varicocele.
It's natural for you to have questions and to not be sure where to turn for answers. That's why we've assembled a list of the 13 questions that patients most frequently ask our team of skilled physicians. It's the answers to questions you're probably wondering about varicoceles, but may not have felt comfortable asking.
Download the 13 Frequently Asked Questions About Varicocele and find answers to questions such as:
What are symptoms of varicocele?
Can having a varicocele affect my fertility?
Is varicocele correctable?
What are my treatment options?