Varicocele Embolization: A Closer Look
Download our free information sheet to gain an understanding and to have your questions answered about Varicocele Embolization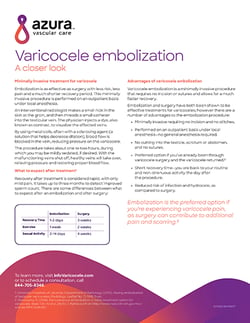 Living with pain in your testicles, or infertility caused by varicoceles can be frustrating, even embarrassing for both you and your partner. Treating your varicocele is likely a priority but what if you do not want to undergo surgery for treatment?
Many men experiencing pain or discomfort achieve relief from their symptoms with Varicocele Embolization, a minimally-invasive outpatient procedure. After the procedure most men resume their normal activities in about a week. Varicocele Embolization also has the potential to improve fertility for those suffering with infertility caused by varicoceles.
Download our free information sheet that discusses:
What you should expect during and post treatment
A closer look at the Varicocele procedure
Advantages of Varicocele
To find out if you are a candidate for the Varicocele procedure, request a consultation and one of Fresenius Vascular Care's experts will help you determine if Varicocele Embolization is right for you to relieve pain, infertility and other symptoms associated with varicoceles.
Request an Appointment Now
with one of our specialists, call us at 844-705-8346.