Understanding
Uterine Fibroid Embolization (UFE)
Download our free information sheet to gain an understanding and to have your questions answered about UFE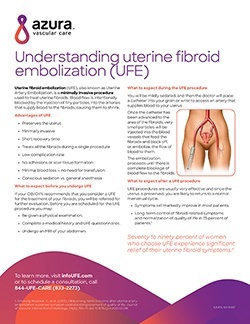 Treat your fibroids without surgery! Uterine Fibroid Embolization is a minimally-invasive procedure used to treat uterine fibroids. The procedure is performed in an outpatient setting, by an interventional radiologist, and does not require general anesthesia. Many women with painful and heavy periods can achieve relief from their symptoms with UFE, and many women resume their normal activities in about a week. 85%-90% of women experience significant relief of their symptoms with no surgery needed.
Download our free information sheet that discusses:
What you should expect pre, during and post treatment
A closer look at the UFE procedure
Advantages of UFE
To find out if you are a candidate for the UFE procedure, request a consultation and one of Azura Vascular Care's experts will help you determine if UFE is right for you to relieve pain and symptoms associated with fibroids.
Request an Appointment Now with one of our specialists, or call us at 844-UFE-CARE
(844-833-2273)