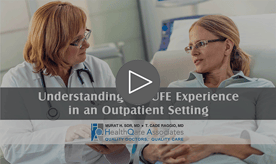 Uterine fibroids are the most frequently seen tumors of the female reproductive system and in some patients, these tumors produce debilitating symptoms, diminishing quality of life.
Learn how minimally invasive uterine fibroid embolization is performed safely and effectively in an outpatient setting and our process for managing patients through this life-altering treatment.
Join us for this 30 minute webinar where we will cover topics such as:
UFE in an Outpatient Center
Patient Selection
Pain Management
Clinical Outcomes in Recent Publications
Not sure if you can attend the live session?
Please register and we will send you the links to the Webinar recording and presentation content.
We hope you join us!
---
Meet The Presenter

Thomas Cade Raggio, M.D.
Interventional Radiologist
HealthQare Associates