Understanding Peripheral Arterial Disease (PAD)
Gain an understanding of what causes PAD, the available treatment options and what you should do next.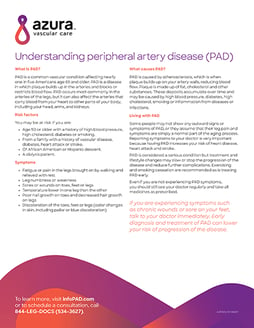 Thousands of men and women each year experience the discomfort and pain caused by PAD. Common symptoms of PAD include fatigue or pain in the legs caused by walking, pain in the legs at rest, sores or wounds on your toes, feet or legs, and even poor nail growth on toes and decreased hair growth on legs.
Although painful, PAD is treatable.
If you are experiencing any of these symptoms, there is a good chance that you may have developed PAD.
Download this fact sheet to better understand:
What PAD is and what causes it to develop
What the possible risk factors are if PAD remains undiagnosed and untreated
The possible treatment options