Request an Appointment with American Access Care Brooklyn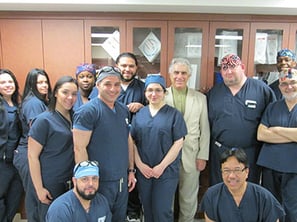 If you would like to request an appointment to meet with one of our specialists about the minimally invasive treatment options we offer for your vascular condition, please complete the form or call (866) 966-9729.
Once completed, you will receive a confirmation email and a representative from American Access Care Brooklyn will contact you within 1-2 business days.
Our representatives are available to assist you Monday-Friday from 8:00 a.m. - 5:00 p.m. (EST) and Saturday from 8:00 a.m. - 2:00 p.m. You may also leave a voicemail during non-business hours and someone will return your call the next business day. If you are having a medical emergency, please call 9-1-1 immediately.
What Our Patients Say About Us

"Very knowledgeable and customer friendly, Dr. Sclafani is an amazing doctor. He takes his time to explain all aspects of your problem and the reason for your procedure. Additionally, he goes through other treatment options available so you can make a conscious decision about your medical management. I would recommend Dr. Scalfani 100%."

Patient


"Friendly, Personable Staff. Dr. Scalfani is very personable and friendly. He answered my questions thoroughly and his expertise is evident. The initial consult took over an hour and I appreciated him taking the time to explain in detail. The staff was cordial, cheerful and helpful. This set the tone for a non stressful setting. I would recommend him to family and friends in need of the same treatment."

Patient

577 Prospect Ave
Lower Level
Brooklyn, NY 11215
Center Hours of Operation:
| | |
| --- | --- |
| Sunday | Closed |
| Monday | 7:00 am - 5:00 pm |
| Tuesday | 7:00 am - 5:00 pm |
| Wednesday | 7:00 am - 5:00 pm |
| Thursday | 7:00 am - 5:00 pm |
| Friday | 7:00 am - 5:00 pm |
| Saturday | 8:00 am - 2:00pm |