Important Questions to Ask Your Access Surgeon for ESRD Patients
Questions to Ask your Vascular Surgeon: A Guide for ESRD Patients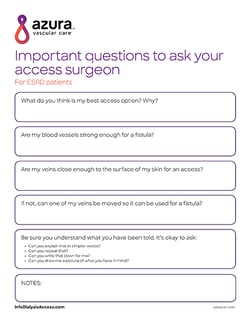 Do you know the different types of vascular access used for dialysis? Which vascular access is best for you?
Deciding which access is best for you is an important decision which directly impacts your health andwell-being. To help with this decision, be prepared with a list of questions for your vascular accesssurgeon to discover what's best for your specific needs.
To get started with some of the questions, download this list of 4 key questions, such as:
Which access is the best option for me and why?
Use this list of questions to collect your thought and obtain the answers you need.
Preparing for anappointment with your doctor can enable you to play an active role in decision making and help youfeel more in control of your health. Asking questions is an important part of establishing goodcommunication with your doctor and may put you at ease.