Important Questions to Ask Before Access Surgery for ESRD Patients
Download this worksheet to receive a list of questions ESRD patients should ask in preparation for access surgery.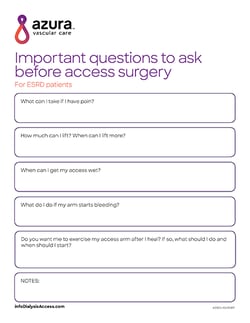 Now that you are through your access surgery and on the road to recovery, there are a few questionsyou will want to ask your surgeon. Asking questions will put your mind at ease and you'll walk awaywith some sense of relief.
Download this list of 6 questions all ESRD patients should ask their surgeon. To help collect yourthoughts, use this download for the next appointment with your doctor.
With this download, you can expect sample questions such as:
What medications can I take for pain?
How much weight can I lift with my access arm after surgery?
Time is usually limited during doctor visits, so it's best to prepare your questions before the appointment. Following your surgeon's advice will help you to recover as quickly as possible.