Important Questions to Ask About Dialysis Access Surgery
Be Prepared for your next appointment with your Kidney Doctor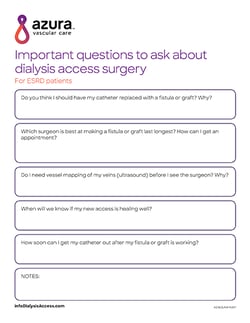 Are you a dialysis patient with a catheter and now you're considering an AV fistula or graft? Not surewhat you should ask your kidney doctor?
Make the most of your time with your kidney doctor by preparing in advance for your nextappointment. Download this list of questions to serve as a guide, allowing you to more accuratelyreview the information gained during the appointment.
With this download, you'll find a list of 5 questions to help you better understand dialysis access surgeryand your options:
How soon can my catheter be removed once my AV fistula or graft is functioning properly?
How will we know if my new access is healing?