Identifying Dialysis Access Dysfunction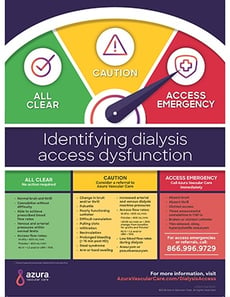 Gain an understanding of the indicators to watch out for when it comes to your access care with this free download.
A well-functioning access is essential for a successful dialysis and needs to be carefully monitored and properly treated to keep it fully functional.
This download can help you recognize the signs to look for as you care for your access.
View at a glance all the indicators for:
When your access is functioning well
When you should consider a referral to a vascular center
When you have an access emergency and need to call for help You play an important role on your healthcare team.
Become your own expert on dialysis access care and reduce any anxiety you may be feeling. Start with this download and accelerate your knowledge of dialysis access and how to protect your own.
Printer friendly version available.