Exploring Varicocele Treatments
Want to have children but don't want to have varicocele surgery?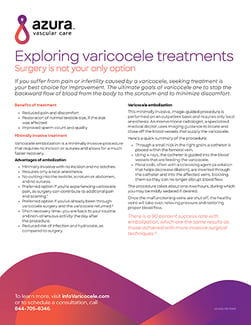 If you've been diagnosed with varicoceles but wish to have children you're not alone. But the idea of having surgery to fix your varicoceles is just not a popular one...for many reasons.
Now There's a Non-surgical Varicocele Treatment
What if only there was a non-surgical outpatient varicocele treatment option with similar success rates as varicocele surgery? Well, there is...its called varicocele embolization and most importantly it requires no cutting into the testicle, scrotum, or abdomen.
Download this guide to:
Learn about surgical and non-surgical varicocele treatment options.
Understand the advantages and disadvantages of each option.
Discover things to consider when choosing a treatment option.
Know what to expect after your treatment.