Exploring Uterine Fibroid Treatments
Download our free information sheet to gain an understanding and to have your questions answered about Uterine Fibroids Treatment Options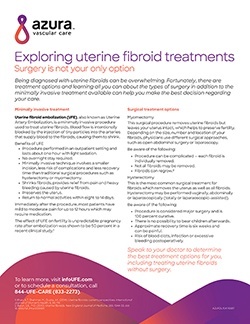 Living with uterine fibroids and its symptoms can be painful, uncomfortable and can interfere with daily activities. Luckily there are treatment options available to get you back to your daily routine, symptom free.
Once you have been diagnosed with Uterine Fibroids, magnetic resonance imaging (MRI) will be used to help determine the best treatment options for you. Your medical team will explain the differences between the minimally-invasive procedure, Uterine Fibroid Embolization (UFE) versus the surgical treatment options such as Hysterectomy and Myomectomy, and the pros and cons for each option.
Download our free information sheet that discusses:
Diagnosis of Uterine Fibroids
Non-Surgical Treatment Options
Difference between Uterine Fibroid Embolization and Surgical Options
To find out if you are a candidate for the UFE procedure, request a consultation with one of our Azura Vascular Care's experts to help you understand your options and choose the best treatment solution.
Request an appointment Now with one of our specialists, or call us at 844-UFE-CARE
(844-833-2273)