Catheter Reduction
Saves Lives
Understand the risks associated with central venous catheters (CVC) for dialysis access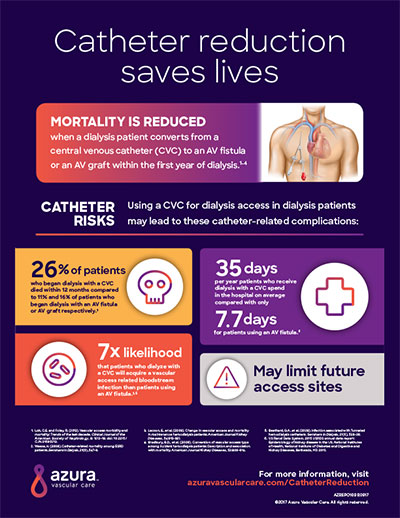 A central venous catheter (CVC) is most often used on a temporary basis. It's not the best long-term option for dialysis access for several reasons, including damage to your central veins or infection – a serious complication which can lead to hospitalization or even death.

This download will give you some current statistics on catheter risks, so that you can work with your healthcare team to make good decisions about your dialysis access and health and well-being.

Download this free guide and expect to learn:
Why catheters are considered the last option for dialysis access

Common catheter complications
Statistics on catheter-related complications
You play an important role on your healthcare team. Become your own expert on dialysis access care and reduce any anxiety you may be feeling. Start with this download and accelerate your knowledge of dialysis access options and how to make good decisions on your own.
Printer friendly version available.