Why Autumn or Winter Is a Great Time to Treat Varicose Veins
Cooler months tend to be more comfortable for patients undergoing varicose vein treatment. Discover why with this free download.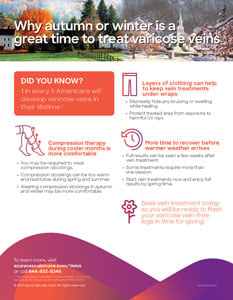 You can get your varicose veins treated at any time of year but many patients find it best to wait until the cooler temperatures of autumn or winter to start treatment. For the most part, varicose vein treatment includes compression therapy and this tends to be more comfortable in cooler weather, plus you have plenty of time for a full recovery before the warmer weather arrives.
Trusting a vascular specialist for your varicose vein treatment matters. At Azura Vascular Care, our physicians are interventional radiologists and vascular surgeons who have a deep understanding of vein problems and are highly trained in treating venous insufficiency leading to complicated varicose veins.
If you are seeking vein treatment and want to flash varicose vein-free legs in time for spring, download our free information sheet to learn:
Reasons why autumn and winter are great times for varicose veins treatments
How layers of clothing can help keep vein treatments under wraps
About compression therapy and why it's more comfortable during cooler weather
Get a leg up on spring! Find a center near you to make an appointment today to discuss your options with an Azura Vascular Care expert who specializes in the treatment of varicose veins