A Guide to Understanding
Uterine Fibroids
Free Download:
Learn about fibroids and the UFE procedure.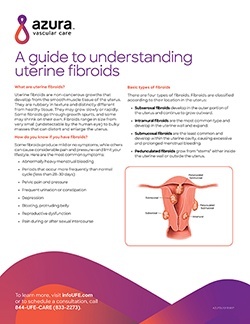 Some fibroids produce mild or no symptoms, while others can cause considerable pain and pressure. Some of these symptoms include frequent urination or constipation, heavy bleeding, and pelvic pain. Your doctor can tell you if your painful symptoms are caused by fibroids.
Many women with painful and heavy periods can achieve relief from their symptoms with uterine fibroid embolization or UFE. UFE is a minimally invasive treatment option performed on an outpatient basis – and many women resume their normal activities in about a week.
Recommended by the American College of Obstetricians and Gynecologists, UFE is effective on most size fibroids and 85% to 90% of women experience significant relief of their symptoms without the need for surgery.
Download this UFE fact sheet and you will learn:
What UFE is and how the procedure is performed
The potential benefits, risks and complications
How UFEcompares to other invasive fibroid treatments
Recovery times and life after the procedure
To find out if you are a candidate for the UFE procedure, request a consultation and one of Azura Vascular Care's experts will help you determine if UFE is right for you to relieve pain and symptoms associated with fibroids.
Request an Appointment Now with one of our specialists, or call us at 844.833.2273.