Know The 3 Dialysis Access Types
Learn how to care for your access to maximize the effectiveness of your dialysis treatments.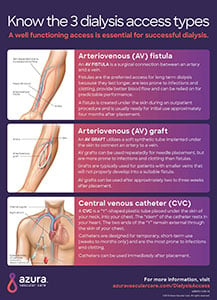 A dialysis access, also referred to as a vascular access, is an entryway to the bloodstream during dialysis allowing your blood to be cleaned when your kidneys no longer function adequately. Without an access,you will not be able to receive dialysis. Taking good care of your access will have a positive impact onyour health and well-being.
Knowing what to do on a daily basis and when to call your doctor are important to preserving youraccess and keeping it fully functional. This download will teach you the basics of access care, how to recognize abnormalities in your access, and when to seek help.
Download this free guide and expect to learn:
Different types of accesses
Tips for taking care of your access
When to call your doctor
You play an important role on your healthcare team. Become your own expert on dialysis access care and reduce any anxiety you may be feeling. Start with this download and accelerate your knowledge of dialysis access and how to protect your own.