13 Important Questions to Ask Your Doctor About Varicocele Embolization
Be Prepared: Ask All the Right Questions At Your Doctors Visit.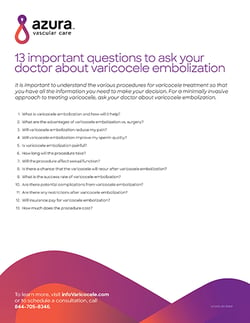 Getting ready to visit the doctor for your varicocele embolization consultation or thinking about scheduling one? You've probably been researching Varicoceles and Varicocele Treatment Options. But what questions are the right questions to ask your doctor?
Ask the Right Questions. Get the Answers You Need.
We know how much work it is to prepare for your consultation.This research process can be stressful and time-consuming. So, we thought we'd help you prepare for your doctors visit.
That way, you have one less thing to worry about.
Download this list of questions and be prepared to ask your doctor questions such as:
What types of tests are used to diagnose varicocele?
How do varicoceles affect fertility?
Can you describe the various procedures used to treat varicocele?